Get ready for the ghosts and goblins..
I get to see the grand, and great grandkids dressed up...
That's whats great...
Being in the country- their all the trick or treaters we get..
☼
Have a SAFE evening.....
☼
I'z a globlin....and I need a treat...
☼
I'z a biker and it'll take a milk bone, please...
☼
What you is??
☼
I'ze a Wizard, in the pumpkin patch.....
☼
On, noes...a big black spider.....
I don't like spiders.....
☼
Yep, you two sure look alike....
☼
We'ze Twins.....and we found a hiding place...
☼
Oh, no....RUN......
☼
Witch's don't get Angry,....do they??
☼
What can I say........
☼
Well, It's time to go......
You like my ride..........
☼
☼
♥♥♥
~~ Pete's barn burned down.Pat, his wife, called the insurance company and said,
"We had that barn insured for fifty thousand and I want my money."
"Whoa there, just a minute,Pat, it doesn't work like that.
We will assess the value of the building and provide you
with a new one of comparable worth." the agent replied.
Pat, after a pause, said, "Well, in that case,......
I'd like to cancel the policy on my husband."
☼
~~ Hey Taz....is this right??
Top ten reasons to become a nurse
1) Pays better then fast food, though the hours aren't as good.
2) Fashionable shoes and sexy white uniforms.
3) Needles: "Tis better to give than receive"
4) Reassure your patients that all bleeding stops...eventually.
5) Expose yourself to rare, exciting and new diseases.
6) Interesting aromas.
7) Courteous and infallible doctors who always leave clear
orders in perfectly legible handwriting.
8) Do enough charting to navigate around the world.
9) Celebrate all the holidays with your friends - at work.
10) Take comfort that most of your patients survive no
matter what you do to them.
☼
~~ What's black, white, orange, and waddles?
A penguin carrying a Jack-o-lantern.
☼
~~ Why do pumpkins never quarrel?
Because they have no stomach for fighting.
☼
~~ Each day an office worker brought a bag lunch,
which always consisted of fruits, vegetables,
and whole grains.
A colleague complimented her on her dedication
to healthy eating.
The woman laughed saying.
"These are the only foods that I'm sure my roommates
won't eat!"
☼
~~ One day on the set, director Roman Polanski was asked
by an actress about her character's "motivation".
"Say the damn words!" he shouted.
"Your salary is your motivation."
☼
~~ When the famous Dutch physician and chemist
Hermann Boerhaave died in 1738, he left behind a sealed
book entitled
"The Onliest and Deepest Secrets of the Medical Art".
The book was auctioned for a vast quantity of gold.
When the new owner broke the seal, he was surprised to find
that 99 of its 100 pages were blank.
Only the title page bore a handwritten note from the author:
"Keep your head cool, your feet warm, and you'll make the
best doctor poor."
☼
~~ The spider loves to entertain Her neighbors and relations,
But woe to any bugs or flies Who accept her invitation!
So have a care, be wary of The most accomplished spinner.
When she murmurs, "Be my guest!"
What she means is, "Be my dinner!"
☼
~~ "A new government study has found that the average
American car weighs five-hundred pounds more than it
did ten years ago.
However, this is only true if an average American is
sitting in the car."
☼
☼
Today's Thought: When it comes to chocolate, resistance is futile.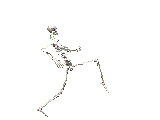 ~~~~~~~~~~~~~~~º~~~~~~~~~~~~